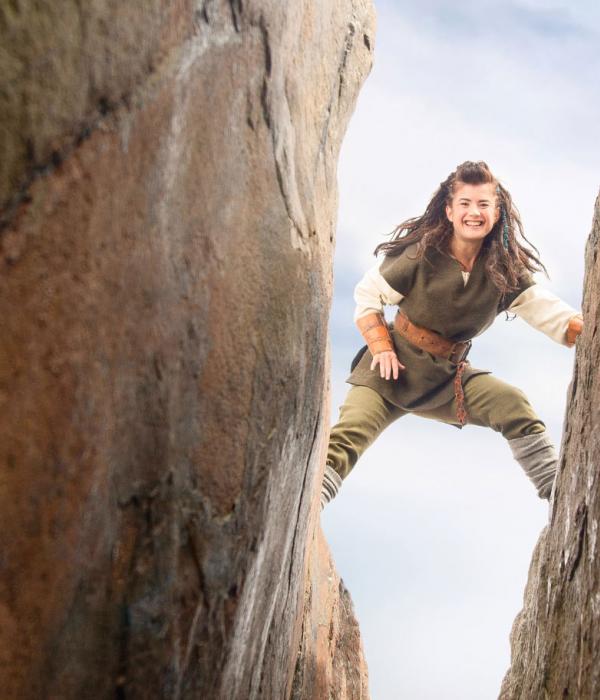 Ronja, the Robber's Daughter
Welcome to the scene of adventure!
Astrid Lindgren's Ronja, the Robber's Daughter is a timeless tale about the power of friendship, longing for the spring and freedom, taking responsibility, and overcoming prejudice – and how we are more alike than we are different.
Adapted by Akse Pettersson and directed by Aleksis Meaney, the performance invites us on a wild adventure that both sends shivers down the spine and reduces to helpless laughter.  The production's gorgeously visual rendering transforms the National Theatre's Main Stage into an enchanting fantasy world captivating theatregoers big and small with its startling beauty. The wonderful Aksa Korttila and Otto Rokka star as Ronja and Birk.
Production team
Cast Tero Koponen, Aksa Korttila, Pirjo Luoma-aho, Pirjo Määttä, Harri Nousiainen, Heikki Nousiainen, Otto Rokka, and Maruska Verona
With Lilja Helenius, Justus Järvinen, Verna Kiiskilä, Saima Koivisto, Selma von Krogh, Miles Kruse, Mimi Kruse, Akseli Myllyaho, Julia Nuutinen, Luca Räsänen, and Mio Räsänen
Director Aleksis Meaney Adaptation for stage Akse Pettersson Adapted from Tuula Taanila's translation of the novel Set designer Katri Rentto Costume designer Saija Siekkinen
Lighting designer Kalle Ropponen Music and sound designer Sami Hassinen Video designer Pyry Hyttinen Choreographer Panu Varstala Fight choreographer Kristo Salminen
Make-up designer Minttu Minkkinen
Dramatic rights held by Nordic Drama Corner Oy.