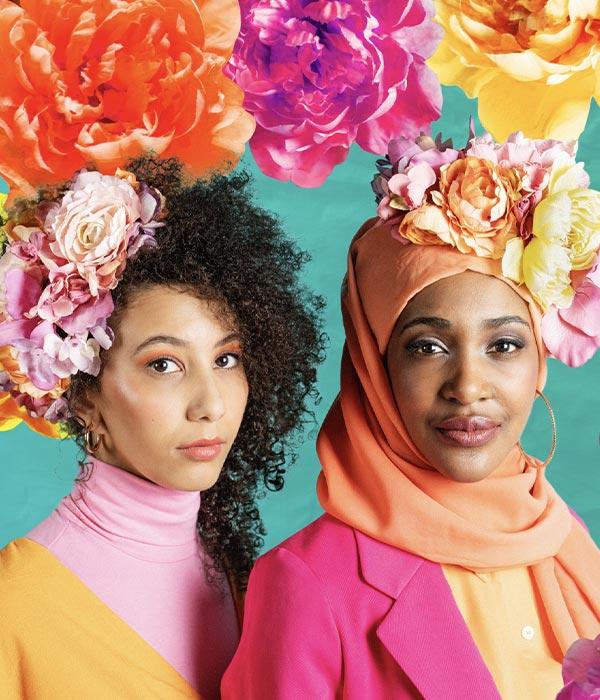 For Girls Who Think They Are Alone
A performance on courage and about feeling seen

For Girls Who Think They Are Alone tells a touching and thought-provoking story about a young woman seeking her path to freedom from the pressures of conflicting communities.
The play is a portrayal of a young person who lives under the strict rules of her community and the bigotry of the locals, but who secretly slips to cinema matinees and the safety of Tyttöjen Talo girls' refuge. Later, this Somali girl grows into an esteemed social influencer. The events take place in Helsinki, with detours to London and Mogadishu. Two brilliant actors share the lead: Safiya Abukar plays the protagonist as a young girl and Emilia Neuvonen the adult.

For Girls Who Think They Are Alone is largely based on Ujuni Ahmed and Elina Hirvonen's eponymous novel (WSOY, 2022). Adapted and directed by Satu Linnapuomi, the play exercises artistic freedom creating a reimagined fictive version for the stage.
Production team
Cast Amaal Ali, Safiya Abukar, Yasmin Ahshanullah, Elssa Antikainen, Jani Karvinen, Pirjo Määttä, Emilia Neuvonen, Jasir Osman and Ilja Peltonen with Julianna Kauhaniemi and Lilja Kervinen  
Director and adaptation Satu Linnapuomi Dramaturg Eva Buchwald Choreographer Ima Iduozee Stage designer Tinja Salmi Costume designer Sanna Levo Sound designer Moe Mustafa Light designer Tomi Suovankoski Video designer Ville Virtanen Makeup designer Minttu Minkkinen Assistant to the Director Isadora Brown