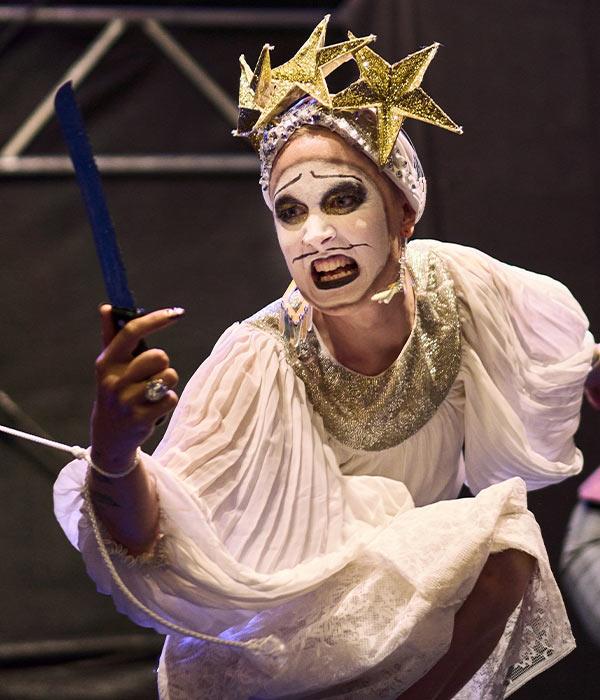 Punch Up! – Resistance & Glitter
A queer feast for the senses, the mind, and the libido!
The unapologetic show that won Finland's Theatre Act of the Year in 2021 is taking over the Vallila Stage on the 3rd of April 2022, with a lineup full of queer brilliance.
Punch Up! is a fierce variety show filled with the best in drag, stand-up comedy, and burlesque. Every show is a uniquely curated glittery dream filled with acts that are hilarious, sexy, thought-provoking, gender-twisting, binary-busting, and thoroughly unforgettable. Short performances dig deep into emotional landscapes that are simultaneously universal and very particular: anxiety, joy, hope, or love – while the audience gives back energy in a deliciously vicious, sexy cycle*.
Created in 2018 by stand-up comedian and monologuist Juuso Kekkonen, stand-up comedian and performance artist James Lórien MacDonald, and queer drag artist and producer Mira Eskelinen, Punch Up! has become a show like no other. Bringing together the most dazzling performers in drag, burlesque, and stand-up comedy, Punch Up! shines a light on the talent and passion to be found in these undervalued art forms.
The heart and soul behind the glamour is what makes the show work everywhere from the most darkly-lit corners of unsavoury bars to Finland's National Theatre Main stage, and we want you here for this treat that will leave you feeling shook up, turned on, raw, and definitely alive.
"Punch Up! Resistance & Glitter offers time and time again a joyful, high-caliber, shamelessly camp collection of voices that are so rarely heard on main stages. As a social gesture it's valuable, necessary, and timely, allowing for the emergence of a rich stream of talents, identities, and performance styles." The Theatre Centre of Finland board / Teatterikeskus ry:n hallitus
*Disclaimer: the organisers and performers are completely responsible for awakening suppressed feelings regarding gender and / or sexuality in audience members.
Language English